Are you afraid of paintballs? Most people are even though they are pretty safe. The Paintball markers are made with an all-round  safety features as a concern. Paintball is a thrilling sport that is suitable for both experienced and newbies. It is a hard sport to get enough of. The hold of a paint gun, aiming and firing at your opponent makes you feel like you are inside a movie. How do you ensure that you enjoy to the maximum?
How to enjoy a paintball sport
Wear the sports suit and mask all the time
Once in the arena, you must be in full paintball sports suit. Only the
referee can tell you where and when it is safe to do so. Removing it immediately you are shot can expose you to a hazard of getting another shot right in your eyes. Remember everyone is in a hyper mood, and they may not notice that you are not safe. You need to enjoy the game all through and ensure everyone does without worries.
Do not be afraid of the paintballs
The impact on the body is so small and has no effect whatsoever. Again, the suit is made of a thick protective material. There may be a little stingy impact upon impact and bursting of the paintball, but this is anything anyone can handle including kids. There is no need to keep hiding from the shot the whole time. What if everyone spends the entire game time hiding behind a tree? No fun at all.
Do not give up too soon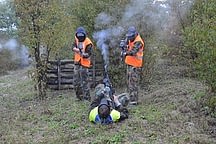 Some people already call themselves ''dead'' before they are shot. Others just give up and expose their body for a shot. Gather courage and remember you are not alone. You have teammates whom you can speak to during the game. Giving up means you are out of the game at that moment and you will not enjoy as you planned. Keep yourself focused on the prize and planning how to reach it. Focus on where your opponent is and get clues of their position to ''terminate'' as many as possible.
Enjoy yourself!
You planned, booked and enrolled to enjoy the game. Not to be pinned down and shot within the first few minutes. Do not allow anything to stand between you and having as much fun as possible. Follow the guidelines provided by the referee and this article as well to make to enjoy. This is an electrifying game for everyone. Let it electrify you!…