There is something about hanging around the kids that just makes you feel wanted and that you belong especially after having a rough day and you would like to unwind and just release the pressure piling up in your head. Why go out drinking with your friends and telling them how stressful your job is or how your boss is such a pain in the neck when you can comfortably spend time with your very own little friends who are your kids, and they never run out of ways to make you smile and in your best mood just yet. They are such a blessing and need to be treated as such in the simplest ways that really matter.
Take them out
Kids naturally love fun and adventure in which they can take part and eventually learn something new at the end of the day. It would be such a shame for them to be denied this one thing that helps them grow in body and mind. No loving parent would deny their kids the chance to explore their world in the best way that guarantees their safety.
Here's an idea, take them out and spoil them every once in a while. I know you do this all the time but do it differently and to a different place this time. Look out for a place which is a total package for your kids to enjoy. When I say total package, I mean bouncing castles, eat out joint, a place that is not limited in space for them to run around and have their fun.
It's all in the family
We have to admit that family is the reason we have come this far. There are some instances in which we look back and see that indeed, we wouldn't have pulled through without them. Which is why we need to keep that bond stronger than it is. Posterity will appreciate us and find pleasure in the good relationships we are building with our family members right now. Some ways in which we can stick together like glue is by going out together as a family and engaging in fun activities for the whole family to enjoy. For example, going out to a place where the necessary amenities are provided such as a basketball court where you can shoot a few hoops or even jump inside the bouncing castles.
Your child's best friend
When you do this, you are proving to your child that they can trust you with even their deepest secrets. Let them know that they can confide in you whether the big things or little things. This way, their confidence in you keeps growing, and they will always feel free around you. You will be your child's best friend, and they will always run to you whenever they are facing challenges they don't think they can handle on their own.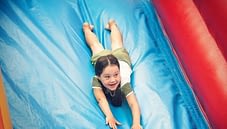 You are also going to benefit from this blossoming relationship between you and your child because you are never going to feel insecure about your child always keeping to themselves and not opening up to anyone. It gets even better when they reach that vulnerable stage called puberty and adolescence. They will not keep to themselves as most of their peers will.…